Title:
A Mortal Instruments Fan Soundtrack
Author/creator:
sunisshiningnow
Summary:
General music for the series
Warnings:
Large-ish file size, oh and vague series spoilers I guess
A/N:
I read the Mortal Instruments trilogy a few months ago and loved it, and had a playlist going for it - which eventually evolved into this FST. The people on the cover are supposed to be Alec, Simon, Clary, Jace, and Isabelle. I'd love to know what you think! :) X-posted to
bonesashesglass
&
sunny_sounds
.
Click covers for full-size: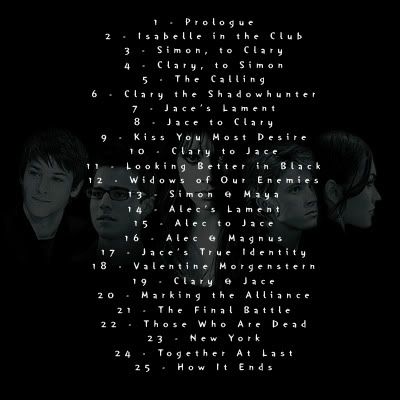 Download Link (
FIXED!
):
[
Mediafire | 25 tracks | 98.3MB | .zip
]

Format=
## // My Track Title | Real Track Title - Artist
01 // Prologue |
Prologue (Through the Wall) - Ilan Eshkeri
02 // Isabelle in the Club |
Isabella - Mediaeval Baebes
03 // Simon, to Clary |
She's So High - Tal Bachman
04 // Clary, to Simon |
Loveology - Regina Spektor
05 // The Calling |
The Calling - Brand X Music
06 // Clary the Shadowhunter |
Have You Got It In You? - Imogen Heap
07 // Jace's Lament |
All These Things That I've Done - The Killers
08 // Jace to Clary |
Uptown Girl - Wheezer
09 // Kiss You Most Desire |
Hero - Regina Spektor
10 // Clary to Jace |
Things I'll Never Say - Avril Lavigne
11 // Looking Better in Black |
Ready Steady Go - Paul Oakenfold
12 // Widows of Our Enemies |
Ya Mama - Fatboy Slim
13 // Simon & Maya |
Beautiful Freak - The Eels
14 // Alec's Lament |
My December - Linkin Park
15 // Alec to Jace |
Sway (Acoustic) - Bic Runga
16 // Alec & Magnus |
Read My Mind - The Killers
17 // Jace's True Identity |
In My Place - Coldplay
18 // Valentine Morgenstern |
Dangerous - Depeche Mode
19 // Clary & Jace |
This Unavoidable Thing Between Us - Evermore
20 // Marking the Alliance |
Return of the Dragon - Brand X Music
21 // The Final Battle |
The Final Fight (Original Score) - Rob Duncan
22 / Those Who Are Dead |
42 - Coldplay
23 // New York |
Somewhere Across Forever - Stellastar
24 // Together At Last |
Kiss Me - Sixpence None The Richer
25 // How It Ends |
Life In Technicolor - Coldplay